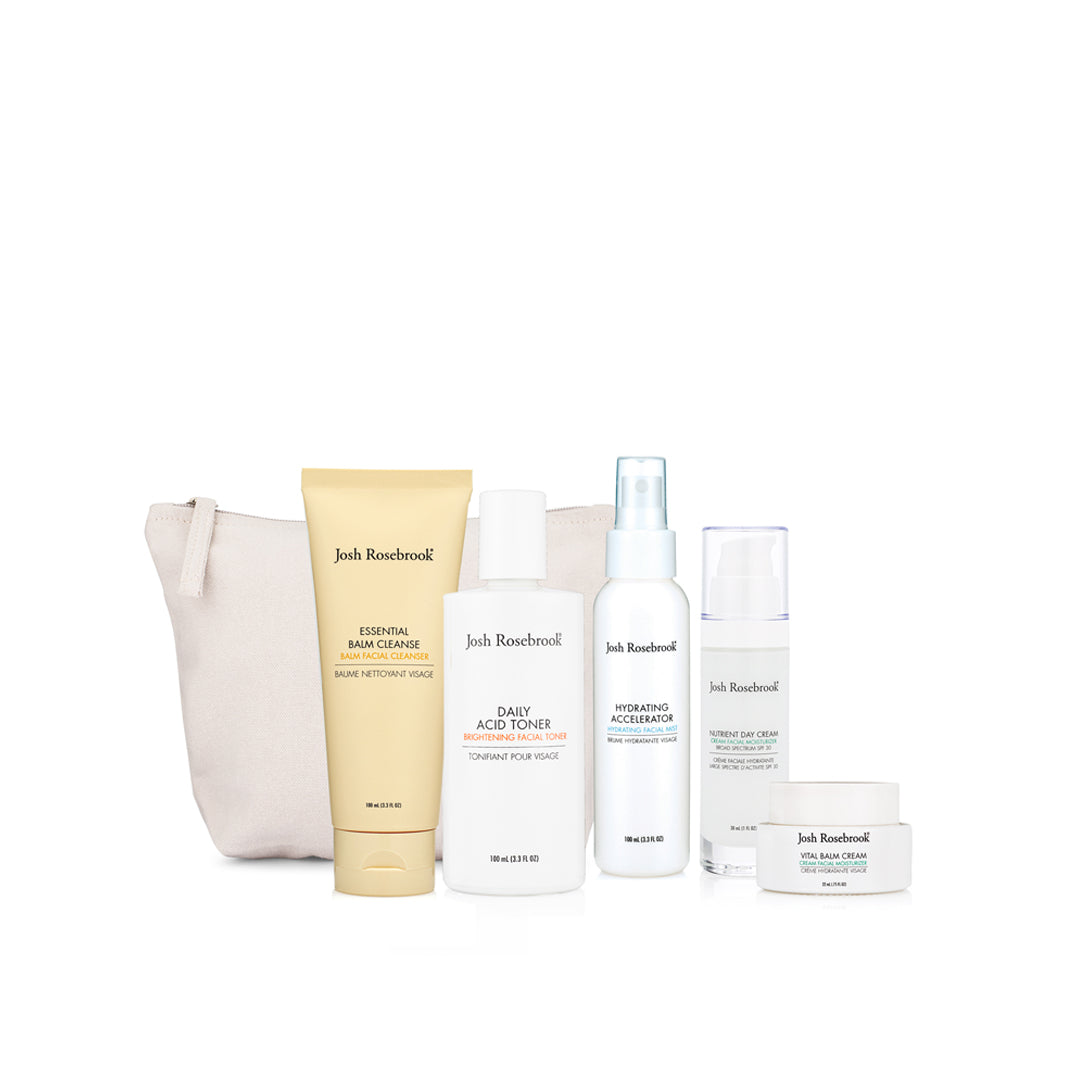 Product Description
If you are new to Josh Rosebrook, here's the simple, easy way to get what you need for your skin right now. Our top 5 foundational skin care products to cleanse, tone, hydrate and protect your skin — The Essential Method.
CLEANSE Essential Balm Cleanse 3.3 oz
Essential Balm Cleanse is a luxurious and gentle, pH-balanced balm cleanser that melts over the skin as a silky, oil paste concentrate and emulsifies into a milky cream when water is added. Effectively removing makeup, dirt, pollution, and imbalanced oil, Essential Balm Cleanse will leave you with soft, beautiful, moisturized skin. Nutrient-dense plant oils, blue-green algae, chlorella, and potent, in-house made herbal extracts work to nourish, calm and soothe skin while preserving the skin's delicate acid mantle barrier.
TONE Daily Acid Toner 3.3 oz
NewBeauty 2021 Beauty Award Winner "Best Exfoliating Toner". Daily Acid Toner is a multi-benefit, exfoliating, brightening skin-toning treatment that works to visibly improve aging, damaged skin, help slow skin deterioration, reduce redness, and improve skin texture. This luxurious facial acid toner helps resurface and soften skin while working to significantly increase skin hydration.
HYDRATE Hydrating Accelerator 3.3 oz
This best-selling organic vitamin-infused aloe water helps plump, increase and support true skin hydration by lowering skin surface tension and effectively penetrating the stratum corneum. For all skin types - oily, combination, normal, and dry. Suitable for dehydrated, sensitive, acne, rosacea, and eczema conditions.
PROTECT Nutrient Day Cream SPF 30 1 oz
Our dual-action day cream performs as a regenerating moisturizer and natural, broad-spectrum sunscreen. This product is unscented and fragrance-free and does not contain any essential oils or resins.
PROTECT Vital Balm Cream .75 oz
A uniquely effective, powerful moisturizer offering botanical hyaluronic acid with rich, active herbal infusions and organic plant oils to help hydrate, soften, and protect the skin.
Total 5 star reviews: 1.2k
Total 4 star reviews: 70
Total 3 star reviews: 18
Total 2 star reviews: 6
Total 1 star reviews: 2
Tiffany B.

Verified Buyer

Reviewing

Essential Balm Cleanse

What is your skin type?

Balanced

What is your skin concern?

Sensitivity

The best for clearing acne without overly drying the skin

I tried the Moisture cleanse first and my skin was too sensitive for it. Then he came out with this and I got it immediately, I've been using it for about 2 years now, and its my absolute favorite. I start with dry skin, spray one pump of hydration accelerater on my face and then rub in the balm. It's removes my makeup, including mascara without aggravating my skin. It also clears acne! Which I don't have on my face, but after a reaction to medicine made my chest breakout, the dermatologist gave me so many creams and washes to clear it up, nothing worked, and so I started using the balm cleanse on my chest, cleared it up immediately. Within 2 days. This product is a dream. It won't over dry your skin.

I have balanced skin, early 30's.

Reviewing

Daily Acid Toner

What is your skin type?

Balanced-Dry

What is your skin concern?

Discoloration

Gentle and extra clean

Gentle and I use it twice a day. I really feel like my skin is getting extra clean and ready to soak up the rest of the products I use for my face.

Reviewing

Vital Balm Cream

What is your skin type?

Balanced-Dry

What is your skin concern?

Damaged

Feels and looks great

I love the way my face feels and looks when I apply this. It really am gives me a fresh clean glisten wish I love.

Reviewing

Hydrating Accelerator

What is your skin type?

Balanced-Dry

What is your skin concern?

Dry

The best!

So hydrating! My favorite face mist ever 🩷

Allison Q.

Verified Buyer

Reviewing

Daily Acid Toner

What is your skin type?

Balanced-Dry

What is your skin concern?

Dry

A Staple

This is now a staple in my skincare routine. It smells like kombucha, and is gentle yet effective. I LOVE
Reviews Loaded
Reviews Added