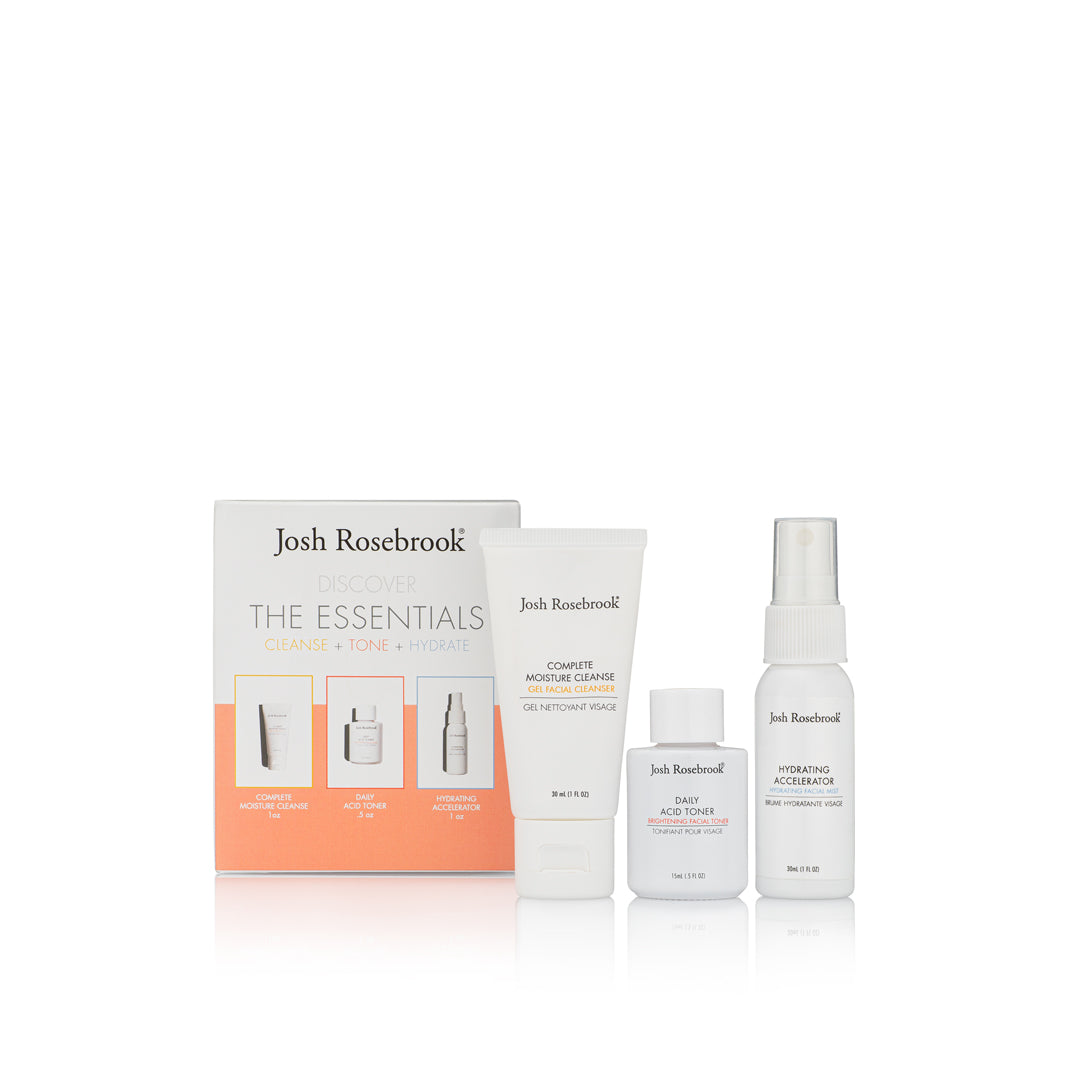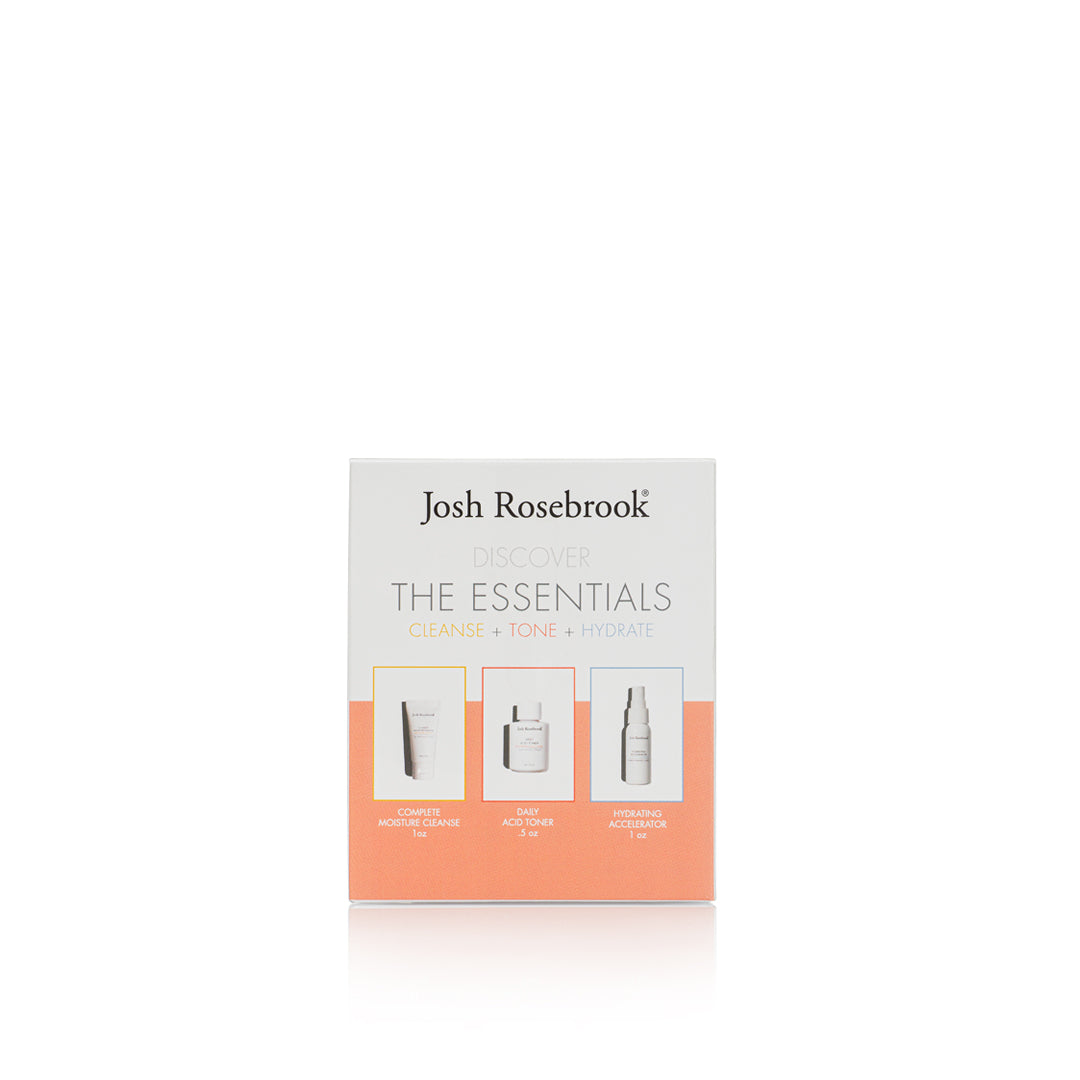 Product Description
Ingredients
How To Use
Product Description
Meet The Essentials, our award-winning products to kickstart your skin care routine. Discover these classics in compact and convenient sizes destined to be your favorite travel companions.
Discover three Josh Rosebrook best sellers without committing to a full size.
New travel friendly minis destined to be favorite skincare companions
.
The perfect gift for someone looking to start a new routine.
Fantastic for someone just discovering skin care or the Josh Rosebrook brand.
CLEANSE Complete Moisture Cleanse 1 oz
Complete Moisture Cleanse is a unique jelly-milk facial wash with a luxurious blend of saponified oils, herbal-infused organic aloe, and ethically-harvested honey that gently lifts away impurities while preserving the skin's protective acid mantle and natural moisture levels. 
TONE Daily Acid Toner .5 oz
NewBeauty 2021 Beauty Award Winner "Best Exfoliating Toner".
Daily Acid Toner is a resurfacing and brightening treatment that smooths the appearance of skin texture with an innovative medley of acids - pyruvic, malic, citric, and glycolic. Also a hydrating concentrate, this toner boosts suppleness with a revitalizing blend of micronutrient-dense aloe vera infused with whole-plant extracts, mineral-rich clay, amino acids, and algae.

HYDRATE Hydrating Accelerator 1 oz
is a multi-purpose, universal facial mist that supports the accelerated delivery of hydration and nourishment to the skin. With a base of soothing phytonutrient-rich aloe vera, this refreshing mist is infused with an antioxidant-complete herbal profile that satisfies skin thirst and calms the appearance of redness. Due to its unique formula structure, the Hydrating Accelerator will enhance the performance of any serums, oils, balms, and creams applied after. Take this mist "on the go" to use anytime and anywhere.
Ingredients
*CERTIFIED ORGANIC
§NON-GMO PLANT SOURCED 
No Animal Testing
Made in the USA 
How to Use
STEP ONE: CLEANSE
With clean hands, gently massage a small amount of Complete Moisture Cleanse onto face using circular motions. Rinse with warm water.
STEP TWO: TONE
After cleansing apply 1/4 teaspoon amount of Daily Acid Toner to a cotton round or washcloth and spread evenly and gently over face, or place a few drops in your palm and apply to face directly.
STEP THREE: HYDRATE
After cleansing and toning mist the Hydrating Accelerator liberally on face. Next, apply your serums, moisturizers and SPF.
Total 5 star reviews: 826
Total 4 star reviews: 48
Total 3 star reviews: 11
Total 2 star reviews: 2
Total 1 star reviews: 2
Reviewing

Daily Acid Toner

What is your skin type?

Balanced-Dry

What is your skin concern?

Blemish-Prone

Incredible!!

I have dry skin but struggle with clogged pores and blemishes. I've wanted a toner that cleanses deeply but leaves my skin feeling supple... and this is absolutely the product. Only a couple of uses and I could see and feel a difference in my skin. It feels so smooth and hydrated. I will definitely keep this is my repertoire!

Reviewing

Hydrating Accelerator

What is your skin type?

Combination

What is your skin concern?

Sensitivity

5 Years of Hydration Bliss!

I've been using the Hydrating Accelerator Facial Mist for a remarkable 5 years now, and it's still my absolute favorite. This mist is a quick burst of hydration that leaves my skin feeling revitalized and ready to take on the day. Not only does it hydrate, but it also helps my skin absorb subsequent products better. The gentle scent and natural ingredients make it perfect for my sensitive skin. This mist has truly stood the test of time, and I can't imagine my skincare routine without it!

Reviewing

Hydrating Accelerator

What is your skin type?

Balanced-Dry

What is your skin concern?

Maturing

Immediate Benefits

This product was missing in my routine. I noticed a difference the first time I used it. My skin was more glowy and dewy even though all the other products on my face were the exact same. So it definitely elevated my skincare game and results.

Reviewing

Hydrating Accelerator

What is your skin type?

Combination

What is your skin concern?

Sensitivity

The Best & Natural

This is truly the best face mist out there! I mix it with a bit of vitamin C in the morning before I moisturize and apply sunscreen, then mist again in the afternoon to rehydrate, then after my evening face cleansing before I apply facial oil.

Reviewing

Hydrating Accelerator

What is your skin type?

Combination

What is your skin concern?

Blemish-Prone
Reviews Loaded
Reviews Added