Weekend Sets
Being founded on integrity means that we conscientiously calculate value and quality when it comes to our formulations. Creating research-driven products for all skin and hair means that we strive to make our products as accessible as possible - bio-designed, natural products should be for everyone. Our skin care sets, body care sets and hair care sets serve to help you unlock more value in savings and simultaneously bring more value to your body and your locks of hair. If you are searching for a unique gift, want to discover more hair care products, or looking to explore Josh's skincare essentials, you've found the right page. These skin and hair care kits are thoughtfully bundled to highlight different needs and goals. Indulge in the The Starter Kit, which includes some of our foundational non-basic basics known to deliver incredible results. The Essential Method highlights Josh's 'desert island' products and gives you the perfect travel set that's TSA carry-on size approved. Within one set, you'll have your cleansing, exfoliation, hydration, and moisturization needs met with these five key products. Try them out in these smaller sizes before investing in the full sizes for continued value and care for the skin. Check out the Style Trio that multi-tasks for your hair, whether you are going for 'fresh off the beach' waves, natural afro or a punk rock mohawk. These could be the perfect hair care gift sets for a friend or the perfect hair styling kit for you! To determine the right level of care for your scalp and hair, choose a shampoo and conditioner based on the level of oiliness of your scalp. If you experience excess oil one to two days after shampooing, the Balance Shampoo and Conditioner is for you, found in any kit that starts with "Balance". Should you be able to go for double that time, reach for Nourish Shampoo and Conditioner found in any kit that starts with "Nourish". Our hair care products are designed to address scalp types and are suitable for all hair textures and types.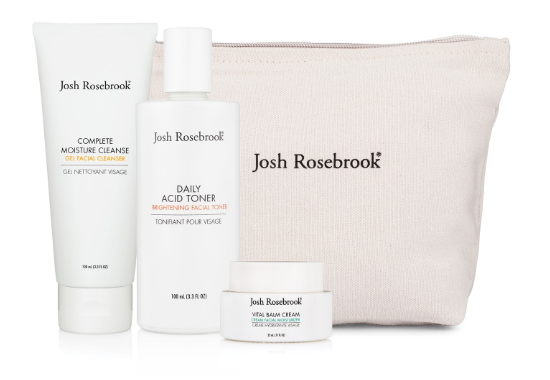 BLOG
The Importance of Skin Care — A Full Body Affair
---
We believe that skincare shouldn't stop at the neck - our bodies deserve the same level of care and quality of ingredients that we traditionally reserve for our face.  We understand skincare as a f...
Read More